1. Product Application of Industrial coke/coal lumps feeder for feeding ball mill
Electromagnetic Vibration Feeder is widely used in industries of metallurgy, mining, coal, building materials, chemical, electric power, foodstuffs, machinery and etc.It can feed bulk shape material, granular material, and powder material from storage silo or funnel uniformly, continuously and quantificationaly to various receiving equipments, such as belt conveyor, bucket elevator , screening equipment, crusher, grinder,etc. And also it can be used in the automatic feeding ingredients, quantitative packaging, production process automation system, and where feeding accuracy requirement is high.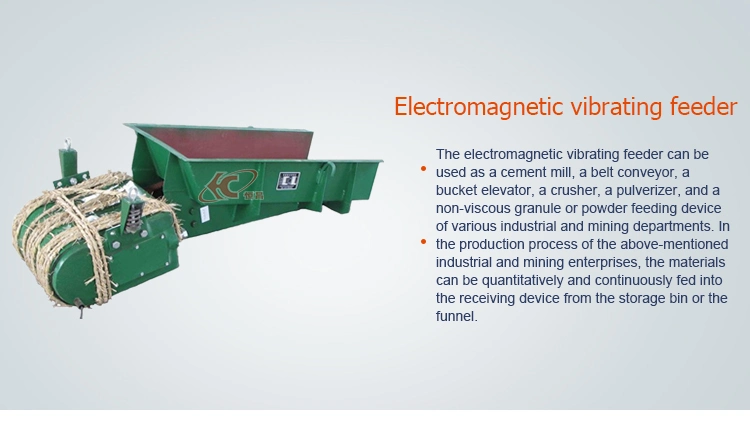 2. Working Principle of Industrial coke/coal lumps feeder for feeding ball mill
Electromagnetic vibration feeder is a relatively complete two-particle directional forced vibration of the elastic system
Electromagnetic vibration feeder working principle, the whole system work in low critical resonance state, the main use of electromagnetic exciter drive tank to a certain inclination to do reciprocating vibration, so that the material along the slot to move. In the positive half of the alternating current, the pulsating current flows through the coil, and a pulsating electromagnetic attraction is generated between the iron core and the armature to move the tank body backward. The main spring of the exciter is deformed and stored potential energy. In the negative half cycle, There is no current through the coil, the electromagnetic force disappears, the armature in the spring force under the action of the electromagnet separated, so that the trough forward movement, so that the chute to the AC power frequency, continuous reciprocating vibration.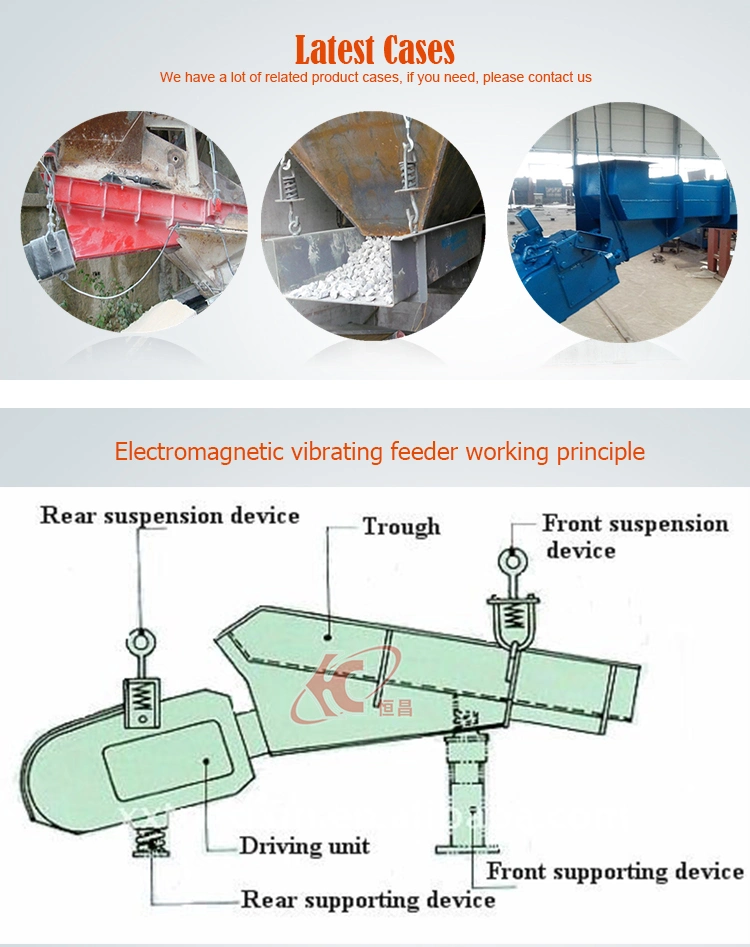 3. Main Features of Industrial coke/coal lumps feeder for feeding ball mill
1. Exclusive vibrator technology
2. Small size and light in weight.
3. Simple structure, easy to install and use, low maintenance cost.
4. High efficiency and large feeding capacity.
5. Highly accurate feeding capacity.
6. Good operational reliability and easy adjustment.
7. Low energy consumption, low noise and a long service life.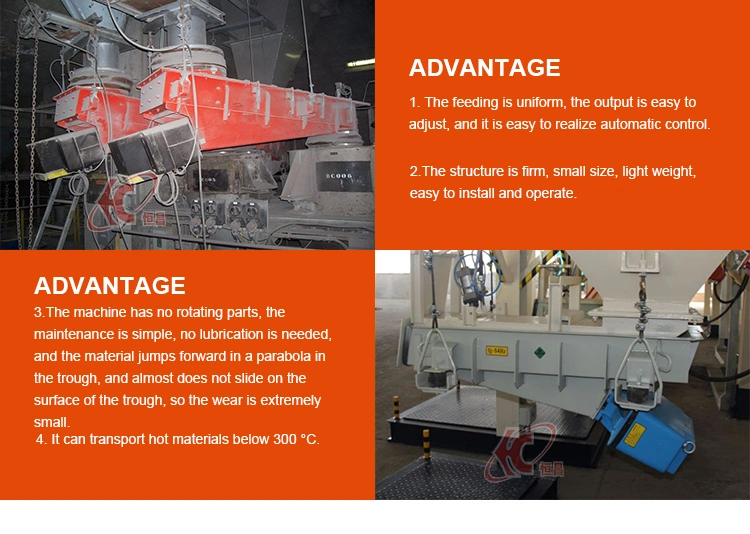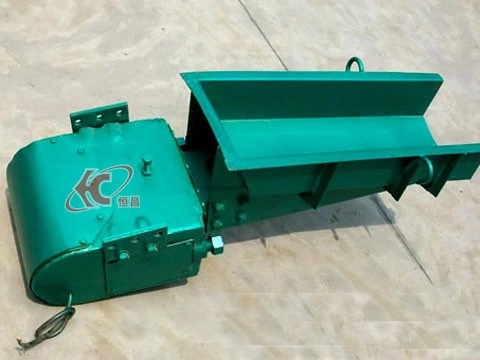 4.Technical Parameters of Industrial coke/coal lumps feeder for feeding ball mill
| | | | | | | |
| --- | --- | --- | --- | --- | --- | --- |
| Model | Max feeding size(mm) | Doudle-amplitude(mm) | Service voltage(v) | Power(v) | Capacity(t/h) | Weight(kg) |
| GT1 | 50 | 1.75 | 220 | 0.06 | 5 | 75 |
| GT2 | 50 | 1.75 | 220 | 0.15 | 10 | 146 |
| GT3 | 75 | 1.75 | 220 | 0.2 | 25 | 217 |
| GT4 | 100 | 1.75 | 220 | 0.45 | 50 | 412 |
| GT5 | 150 | 1.75 | 220 | 0.65 | 100 | 656 |
| GT6 | 200 | 1.5 | 380 | 1.5 | 150 | 1252 |
| GT7 | 250 | 1.5 | 380 | 3 | 250 | 1920 |
| GT8 | 300 | 1.5 | 380 | 4 | 400 | 3040 |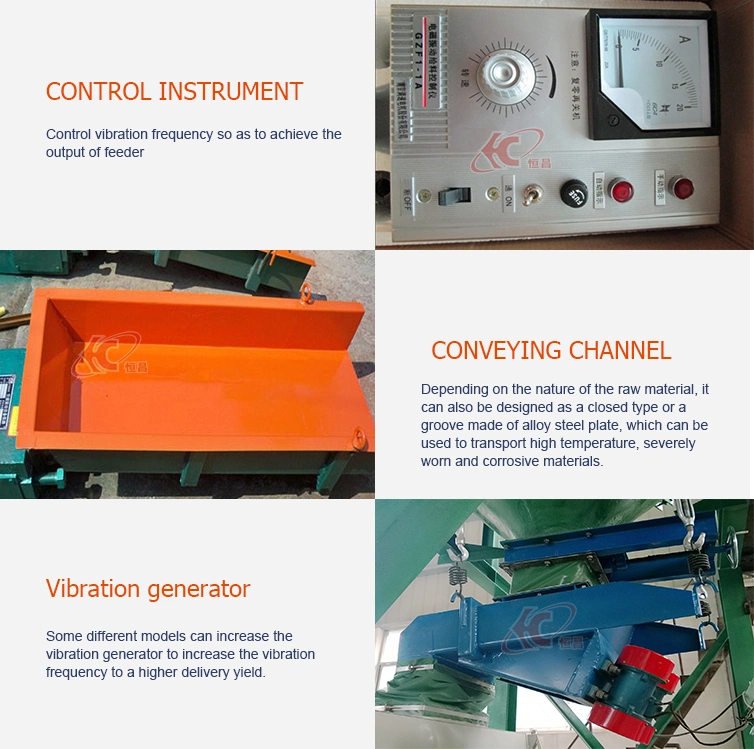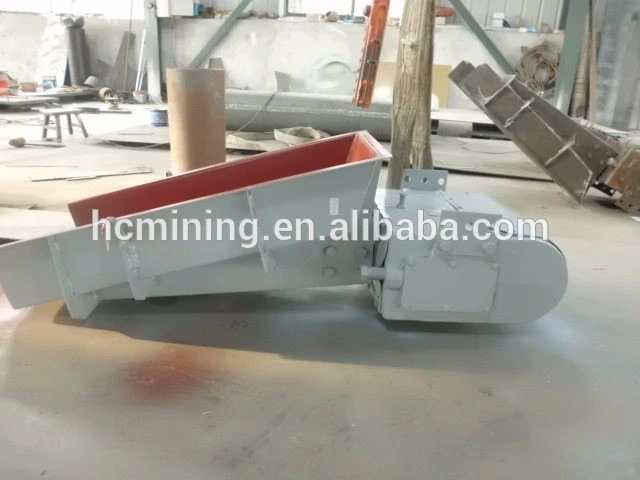 5.Our service
(1) Installation and guidance
When the machine arrives at your company, we will dispatch our technicians to your company to guide the installation and commissioning at site. User should pay for the following fees air tickets, boarding and lodging and traffic in client's factory.

(2)Technical training
We provide free technical training service to your stuff. Training content contains the main work principle of machine, operating regulations, maintenance methods and steps, safety, etc.

(3)Warranty:
Three guarantees of our product quality, warranty for one year (not include man-made damaged). We will maintain the machine for free for the quality problem. If the damage is caused by your improperly operation, the cost of the maintenance burden by you. we also provide you the life-long follow-up service.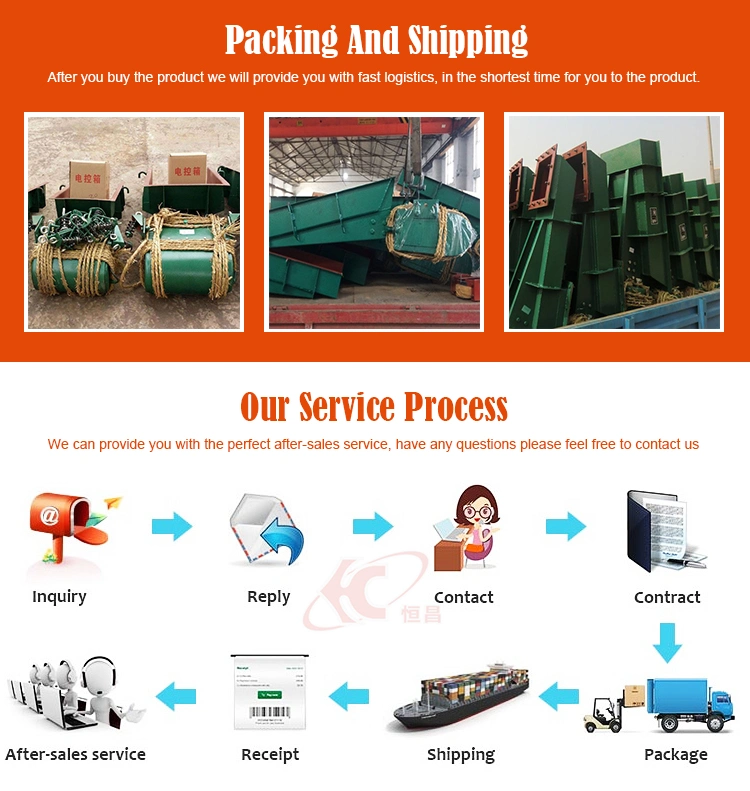 6.Our copmany
Gongyi Hengchang Metallurgy Building Material Equipments plant is a professional manufacturer specializing in the production of mineral beneficiation equipments, sand and stone crushing equipments, briquetting equipments, coal preparation equipments, drying and calcining equipments, cement plant equipments and compound fertilizer equipments.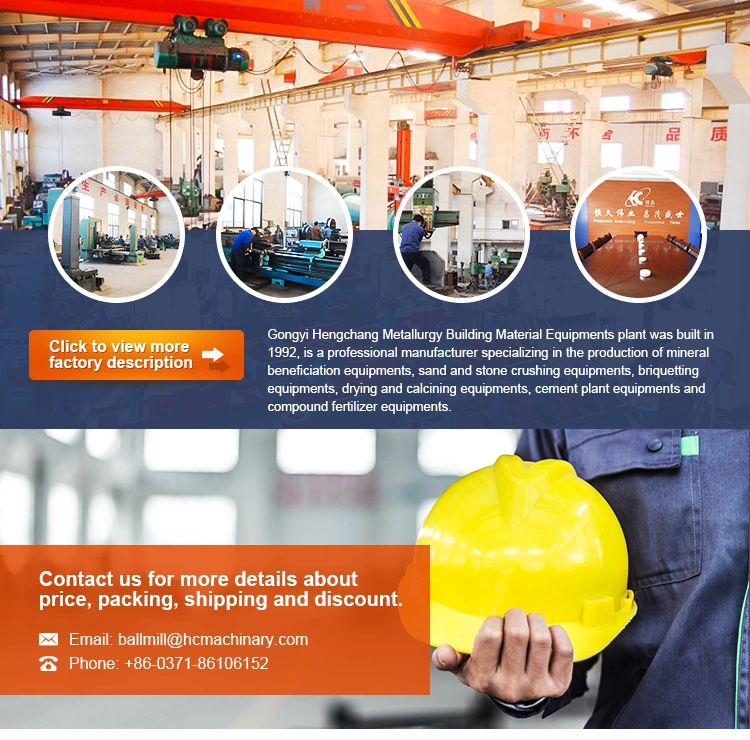 7. Buying Guides
To choose the appropriate model for you ,can you tell me:
(1) What's the raw materials(such as limestone) and its size(mm/inch)?
(2). What do you neeed ?a machine or a stone production line ?
(3). What's the required capacity(tons per hour or t/h)?
FAQ:
1 Are you a trading company or manufacturer? What is your main products?

We are a manufacturer, Our factory name is Gongyi Hengchang metallurgical building materials equipments plant. which has over 25 years of experience in this industry. Our Main products are Jaw crusher,Impact crusher,Cone crusher,Hammer crusher,Vibration feeder,Vibration screen,sand/stone washing machine,ball mill,flotation machine,Disc pelletizer, concentrator,Rotary dryer,Conveyor machine ,Briquette machine , Mixer ,Roller grinder and so on,We produce products divided into Stone prodution line and Sand-making productiong line,
Magnetic separating process ,Flotation separating process ,Gravity separating process ,Coal and mineral powder briguetting .

2 Can I visit your factory and clients' workshop? How to get to your factory?

Yes, welcome to visit our factory anytime, we can also arrange your visit in our China clients' workshop.
For getting to our factory, you can get a flight to Zhengzhou Airport. It just takes about 2 hour from Zhengzhou Airport to our factory by car.

3 What is your guarantee time and aftersale service?

--Our guarantee time is 1 years.
--EEach order machine we provide installation drawing and operation manual. If needed, engineers can be sent to your factory for installation and commissioning, training.
--Any problem in operation or others about machines, we will give solution in 12-24hours.

4 What is your payment term?
We can accept various payment terms if it is convenient for you.

5 What is your delivery time?

Machine leadtime is 7 working days in standard specification, 15~20 working days if customized.

Pls tell your questions,Hengchang factory team are happy to serve&ready to be your business partner! If you want to know more details, please contact Amanda ! Your satisfaction is our greatest pursuit.

Contact: Amanda Li

Website: http://hcmining.en.made-in-china.com

Amanda