High Quality Ball Mill With Rubber Liner For Zircon Sand :
Ball Mill Equipment is the key equipment for grinding after the crush process, and it is widely used in the manufacture industries, such as cement, silicate, new building material, refractory material, fertilizer, ferrous metal, nonferrous metal and glass ceramics, it also can be used for the dry and wet grinding for all kinds of ores and other grind-able materials.
Ball Mill Working Principle:
The ball mill is horizontal cylindrical rotation device, driven by brim gearwheel. There are two /three chambers and grid. Material goes into the first chamber through the spiral feeding inlet. Inside the first chamber, there are stage liners and ripple liners as well as steel balls.
The shell rotates so as to generate electricity, and this force brings ball to a certain height and then balls drop down by gravity, the impact is the grinding force to the material. After the primary grinding, materials go into the second chamber through segregate screen. In the second chamber, there are flat liners and steel ball. After the secondary grinding, material is discharged from the discharging mouth. Then the whole grinding process is ended.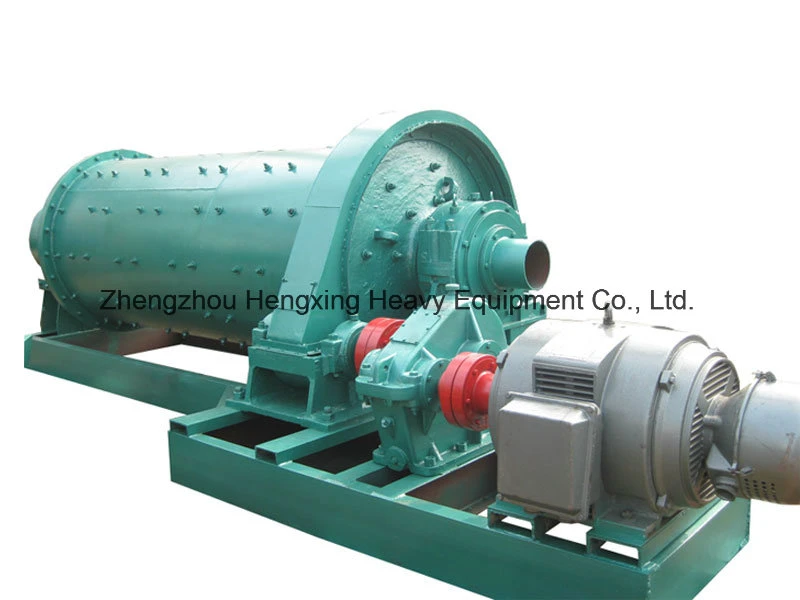 Ball Mill Structure:
The machine is composed of feeding part, discharging part, turning part and driving part (reducer, small driving gear, electric motor and electric control). The quill shaft adopts cast steel part and the liner is detachable. The turning gearwheel adopts casting hobbing process and the drum is equipped with wear-resistant liner, which has good wear-resistance. The machine is with stable and reliable working condition. Moreover, according to different materials and discharging methods, there are dry ball mills and wet ball mills for choice.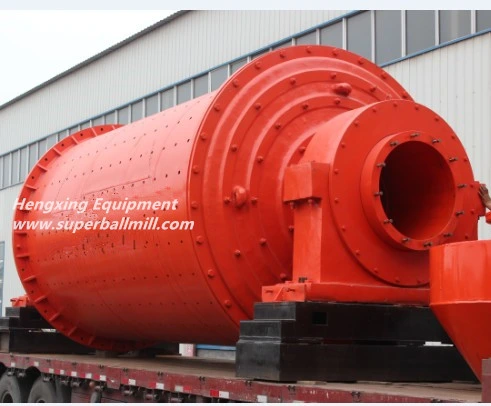 Model
shaft rotation speed(r/min)
Ball load(t)
Feeding size(mm)
Discharging size(mm)
Capacity(t/h)
Power(KW)
Weight(T)
Φ 900 × 1800
38
1.5
≤ 20
0.075 -0.89
0.65 -2
18.5
3.6
Φ 900 × 2100
38
1.3-1.4
≤ 15
0.075 -0.83
0.7 -3.5
18.5
3.9
Φ 900 × 3000
38
2.7
≤ 20
0.075 -0.89
1.1-3.5
22
4.5
Φ 1200 × 2400
32
3.8
≤ 25
0.0745-0.6
1.5-4.8
30
11.5
Φ 1200 × 2800
32
3.3-3.5
≤ 25
0.0745-0.6
2-6
30
13
Φ 1200 × 4500
32
7
≤ 25
0.074 -0.4
1.6-5.8
45
13.8
Φ 1500 × 3000
27
8
≤ 25
0.074 -0.4
2-5
75
17
Φ 1500 × 3500
27
6.75
-6.4
≤ 25
0.075 -0.4
3-7
75
17.5
Φ 1500 × 4500
27
14
≤ 25
0.074 -0.4
3.5-12
110
21
Φ 1500 × 5700
27
15
≤ 25
0.074 -0.4
3.5-8
115
24.7
Φ 1830 × 3000
24
18
≤ 25
0.074 -0.4
4-10
130
28
Φ 1800 × 3600
24
10.6
-11.35
≤ 25
0.075 -0.4
5-22
130
33.5
Φ 1830 × 7000
24
25
≤ 25
0.074 -0.4
7.5-17
210
36
Φ 2100 × 3600
22
14-15.2
≤ 25
0.075 -0.4
15-36
370
46.8
Φ 2200 × 5500
21
30
≤ 25
0.074 -0.4
10-20
210
48.5
Φ 2200 × 6500
21
31
≤ 25
0.074 -0.4
14-26
380
52.8
Φ 2200 × 7500
21
33
≤ 25
0.074 -0.4
16-29
380
56
Φ 2400 × 3000
20.6
15.5
-16.6
≤ 25
0.075 -0.4
22-24
245
59
Φ 2400 × 4500
21
30
≤ 25
0.074 -0.4
8.5-60
380
65
Φ 2700 × 3600
20.6
39
≤ 25
0.074 -0.4
12-70
400
91.3
Φ 2700 × 4000
20.7
40
≤ 25
0.074 -0.4
12-80
400
94
Φ 2700 × 4500
20.7
48
≤ 25
0.074 -0.4
12-90
430
102
Φ 3200 × 4500
18
65
≤ 25
0.075
-0.4
according to the technics
800
137