• Steel welded structure with stress-free for reliable performance
• Hydraulically driven blade holder, retracted by cylinder accumulator, convenient, reliable and elegant
• E21 can control the movement of ram stroke and backgauge,achieving efficient and highly precise positioning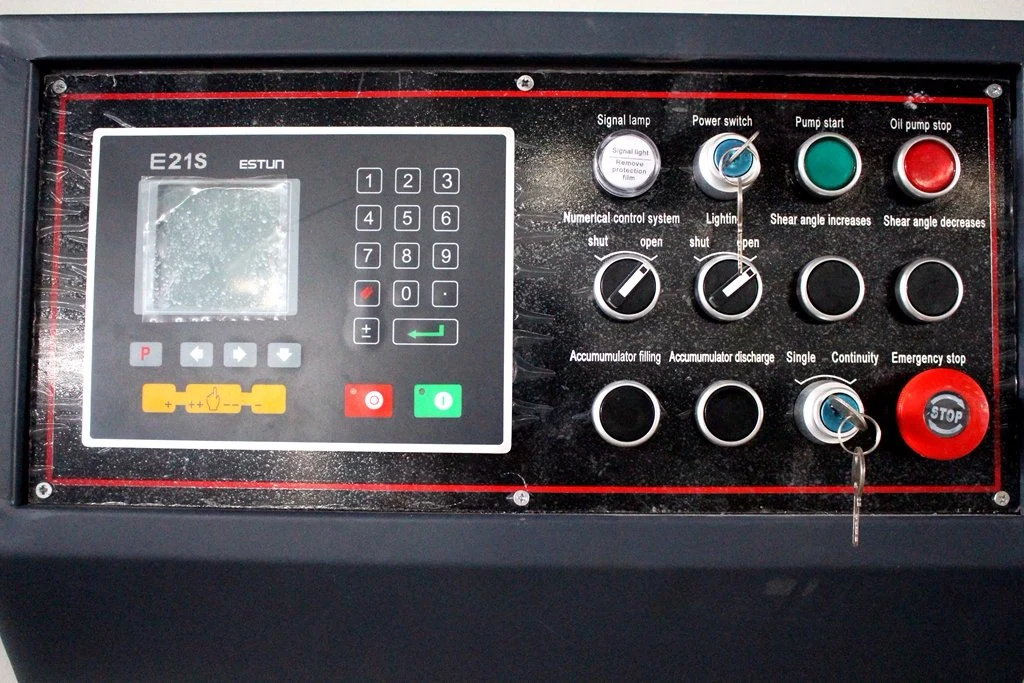 • Shadow line lighting;
• Full or short stroke adjustment of blade holder to achieve high efficiency and productivity;
• Foot switch for operation with emergency stop;
• Blades with high tensile strength for cutting carbon steel and stainless steel;
• Indicator-based adjustment of blades clearance is easy, convenient and swift;
• Basic guard fence around the shear is for personnel safety;
• Balls on worktable help for easy feeding of metal sheet and reducing labour intensity;
• Emergency stops on machine and foot switch, ensuring labor safety at every place;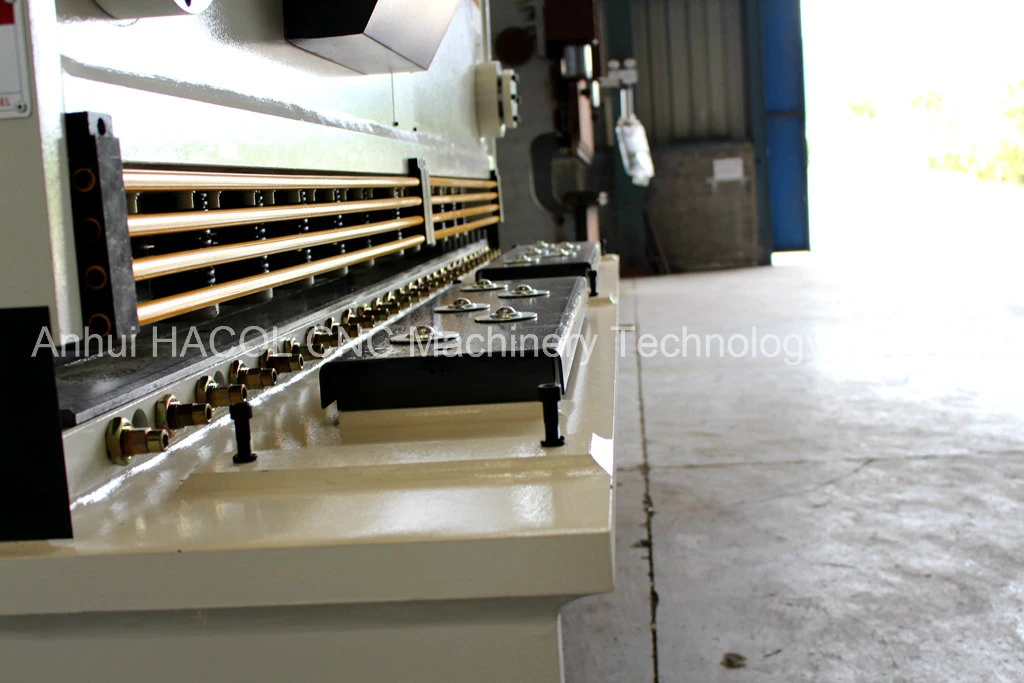 • Hydraulics of reputable brand is used for reliability;
• Customized power connection voltage, such as 3phase, 220V, 60Hz in South
America
,etc;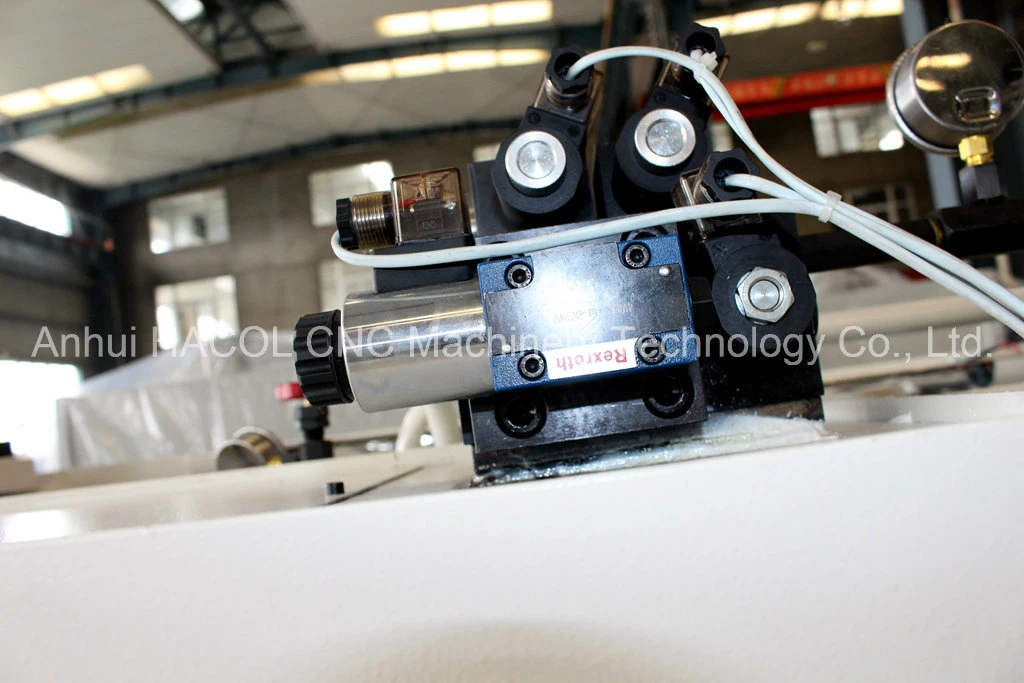 | | | | | | | | | |
| --- | --- | --- | --- | --- | --- | --- | --- | --- |
| Model | Cutting Thickness | Cutting Length | Cutting angle | Strength | Strokes | Main power | Weight | Dimension(LxWxH) |
| | (mm) | (mm) | (°) | (KN/CM) | (Spm) | (kw) | (kg) | L×W×H(mm) |
| QC12Y-4×2500 | 4 | 2500 | 1°30′ | ≤450 | 10 | 5.5 | 3800 | 3040×1610×1620 |
| QC12Y-4×3200 | 4 | 3200 | 1°30′ | ≤450 | 10 | 5.5 | 5000 | 3840×1610×1620 |
| QC12Y-4×4000 | 4 | 4000 | 1°30′ | ≤450 | 8 | 5.5 | 6500 | 4600×1700×1700 |
| QC12Y-4×6000 | 4 | 6000 | 1°30′ | ≤450 | 5 | 7.5 | 11000 | 6460×2100×3200 |
| QC12Y-6×2000 | 6 | 2000 | 1°30′ | ≤450 | 12 | 7.5 | 430 | 2540×1610×1620 |
| QC12Y-6×2500 | 6 | 2500 | 1°30′ | ≤450 | 10 | 7.5 | 5000 | 3040×1610×1620 |
| QC12Y-6×3200 | 6 | 3200 | 1°30′ | ≤450 | 9 | 7.5 | 6000 | 3840×1610×1620 |
| QC12Y-6×4000 | 6 | 4000 | 1°30′ | ≤450 | 8 | 7.5 | 8200 | 4620×1750×1700 |
| QC12Y-6×6000 | 6 | 6000 | 1°30′ | ≤450 | 5 | 11 | 16500 | 6480×2100×2300 |
| QC12Y-8×2500 | 8 | 2500 | 1°30′ | ≤450 | 10 | 7.5 | 6000 | 3040×1700×1700 |
| QC12Y-8×3200 | 8 | 3200 | 1°30′ | ≤450 | 8 | 7.5 | 7200 | 3860×1700×1700 |
| QC12Y-8×4000 | 8 | 4000 | 1°30′ | ≤450 | 8 | 7.5 | 8800 | 4640×1700×1700 |
| QC12Y-8×6000 | 8 | 6000 | 1°30′ | ≤450 | 8 | 11 | 18000 | 6480×2100×2350 |
| QC12Y-10×2500 | 10 | 2500 | 1°30′ | ≤450 | 9 | 11 | 7300 | 3040×1700×1700 |
| QC12Y-10×3200 | 10 | 3200 | 2° | ≤450 | 9 | 11 | 8000 | 3860×1700×1700 |
| QC12Y-10×4000 | 10 | 4000 | 2° | ≤450 | 8 | 11 | 12050 | 4650×2100×2000 |
| QC12Y-10×6000 | 10 | 6000 | 1°30′ | ≤450 | 5 | 15 | 24000 | 6500×2100×2300 |
| QC12Y-12×2500 | 12 | 2500 | 1°40′ | ≤450 | 9 | 18.5 | 9000 | 3140×2150×2000 |
| QC12Y-12×3200 | 12 | 3200 | 1°40′ | ≤450 | 9 | 18.5 | 10800 | 3880×2150×2000 |
| QC12Y-12×4000 | 12 | 4000 | 1°40′ | ≤450 | 8 | 18.5 | 13000 | 4680×2150×2000 |
| QC12Y-12×6000 | 12 | 6000 | 2° | ≤450 | 5 | 18.5 | 29500 | 6900×2600×2700 |
| QC12Y-12×8000 | 12 | 8000 | 2° | ≤450 | 5 | 18.5 | 46500 | 9000×3500×3500 |
| QC12Y-16×2500 | 16 | 2500 | 2°30′ | ≤450 | 9 | 18.5 | 11000 | 3140×2150×2000 |
| QC12Y-16×3200 | 16 | 3200 | 2°30′ | ≤450 | 8 | 18.5 | 13000 | 3880×2150×2000 |
| QC12Y-16×4000 | 16 | 4000 | 2°30′ | ≤450 | 8 | 18.5 | 16300 | 4650×2150×2200 |
| QC12Y-16×6000 | 16 | 6000 | 2°30′ | ≤450 | 5 | 22 | 36000 | 6900×2700×2700 |
| QC12Y-16×8000 | 16 | 8000 | 2°30′ | ≤450 | 5 | 22 | 75000 | 9000×3500×3500 |
| QC12Y-20×2500 | 20 | 2500 | 3° | ≤450 | 8 | 22 | 15800 | 3440×2300×2500 |
| QC12Y-20×3200 | 20 | 3200 | 3° | ≤450 | 8 | 22 | 18500 | 4150×2350×2700 |
| QC12Y-20×4000 | 20 | 4000 | 3° | ≤450 | 5 | 22 | 21500 | 4850×2600×2400 |
| QC12Y-20×6000 | 20 | 6000 | 3° | ≤450 | 4 | 22 | 47000 | 6700×3000×3000 |
| QC12Y-25×2500 | 25 | 2500 | 3° | ≤450 | 8 | 37 | 19000 | 3200×2700×2900 |
| QC12Y-25×3200 | 25 | 3200 | 3° | ≤450 | 5 | 37 | 23000 | 4200×2500×2600 |
| QC12Y-30×2500 | 30 | 2500 | 3° | ≤450 | 4 | 37 | 23500 | 3300×2900×3000 |
| QC12Y-30×3200 | 30 | 3200 | 3°30′ | ≤450 | 4 | 40 | 26000 | 4200×2500×2600 |
| QC12Y-40×2500 | 40 | 2500 | 4° | ≤450 | 3 | 75 | 38000 | 3200×3300×3200 |
| QC12Y-40×3200 | 40 | 3200 | 4° | ≤450 | 3 | 90 | 49000 | 4300×3300×3000 |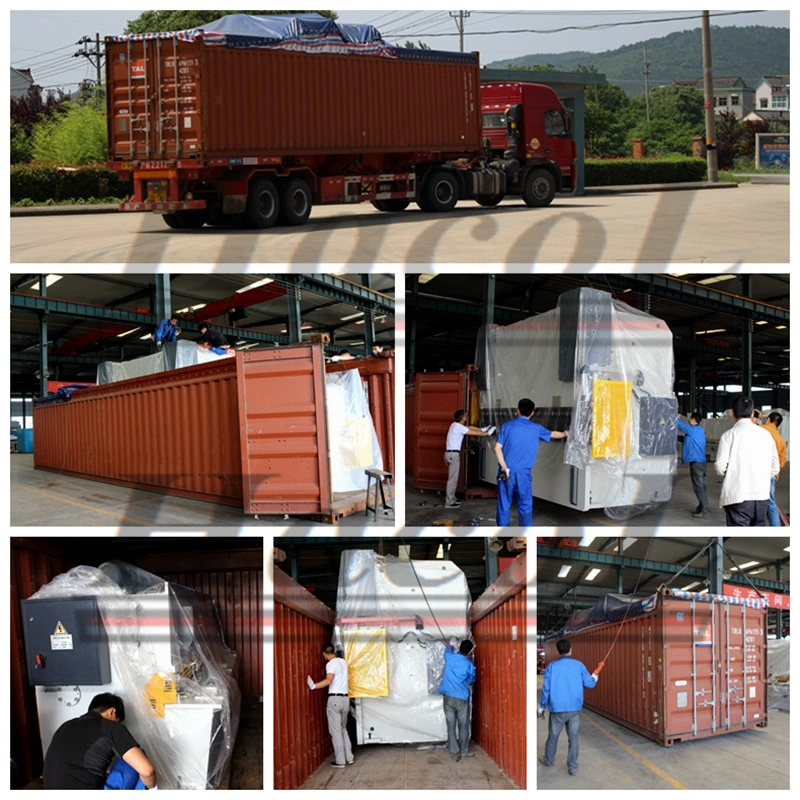 Our Services:
1 Standardization of Service
"

112

"
1: Expect a response in 1 hour
1: a solution will be provided in 1 day
2:
W
e will fix the issue in 2 days
2.
Installation Service
Installation Services are available for HACOL machinery with disassemble
machine. We dispatch technicians to customers' locations for installation and configuration of machines.( Customers only need to afford technician airfare and lodging)
3.
Training Service
Our technicians are available to visit your factory and offer comprehensive training of how to operate our CNC machines. You may also send your technician to our facilities to undergo a more rigorous training program.
4.
Quality Guarantee
1.
All HACOL machines quality are in guarantee and produced according to the agreed technical data.
2.
Each machine will be performed a final test after production and before shipment. We run the machines for a few days, and then use it under similar conditions that the customer will be using. After making sure the machines is performing properly, we will then make the shipment.
3.
Each unit machine has a FIVE year warranty.
If you would like to know some more details about this product, please leave a message with your contact information, we will reply you at earliest time!