HS8 series Hydraulic Guillotine Shear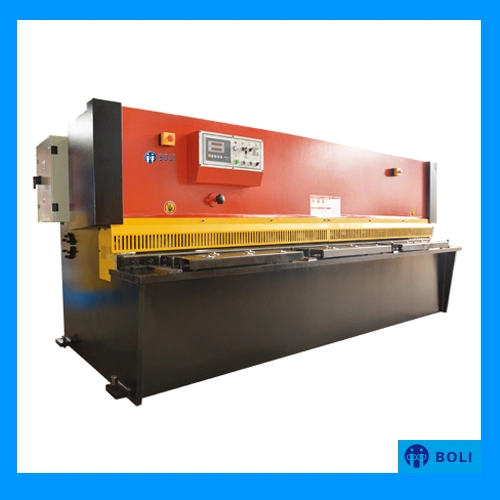 Features:
> Entire welded frame, press with tempering.
> Hydraulic drive, reservoir return stroke.
> Three point supporting rolling guide to insure quality.
> Square blade with long life.
> Blade clearance adjusting indicated, easy for adjusting.
> Light alignment device.
> Stepless adjusting up blade stroke.
> Railing guards.
> Digital display: back gauge size and shear times.
> Adjustable shear angle.
Specification:
Model
Max. Shearing Thickness
Max. Shearing Width
worktable height
shearing angle
number of stroke
back gauge adjustment
Main Motor Power
mm
mm
mm
°
min -1
mm
KW
HS8-6*2500
6
2500
800
30′-1°30′
16-35
20-600
7.5
HS8-6*3200
6
3200
800
30′-1°30′
14-35
20-600
7.5
HS8-6*4000
6
4000
800
30′-1°30′
10-30
20-600
7.5
HS8-6*5000
6
5000
900
30′-1°30′
10-30
20-800
11
HS8-6*6000
6
6000
1000
30′-1°30′
8-25
20-800
11
HS8-8*2500
8
2500
800
30′-2°
14-30
20-600
11
HS8-8*3200
8
3200
850
30′-2°
12-30
20-600
11
HS8-8*4000
8
4000
900
30′-2°
10-25
20-600
11
HS8-8*5000
8
5000
1000
30′-2°
10-25
20-800
15
HS8-8*6000
8
6000
1050
30′-2°
8-20
20-800
15
HS8-12*2500
12
2500
840
30′-2°
12-25
20-800
15
HS8-12*3200
12
3200
900
30′-2°
12-25
20-800
15
HS8-12*4000
12
4000
940
30′-2°
8-20
20-800
15
HS8-12*5000
12
5000
1000
30′-2°
8-20
20-1000
22
HS8-12*6000
12
6000
1060
30′-2°
6-20
20-1000
30
HS8-16*2500
16
2500
840
30′-1°30′
12-20
20-800
22
HS8-16*3200
16
3200
900
30′-1°30′
12-20
20-800
22
HS8-16*4000
16
4000
940
30′-1°30′
8-15
20-800
22
HS8-16*5000
16
5000
1000
30′-1°30′
8-15
20-1000
30
HS8-16*6000
16
6000
1100
30′-1°30′
6-15
20-1000
37
HS8-20*2500
20
2500
900
30′-3°
10-20
20-800
30
HS8-20*3200
20
3200
950
30′-3°
10-20
20-800
30
HS8-20*4000
20
4000
1100
30′-3°
8-15
20-800
30
HS8-20*5000
20
5000
1100
30′-3°
8-15
20-1000
37
HS8-20*6000
20
6000
1200
30′-3°
6-15
20-1000
37
HS8-25*2500
25
2500
900
30′-1°30′
8-15
20-800
37
HS8-25*3200
25
3200
950
30′-1°30′
8-15
20-800
37
HS8-25*4000
25
4000
1100
30′-1°30′
6-12
20-1000
37
HS8-32*2500
32
2500
1000
30′-4°
6-12
20-1000
55
HS8-32*3200
32
3200
1100
30′-4°
8-12
20-1000
55
HS8-40*2500
40
2500
1200
30′-4°
4-10
20-1000
55
HS8-40*3200
40
3200
1200
30′-4°
4-10
20-1000
55