General introduction
Place of Origin: Hunan, China (Mainland)
Brand Name: Forhome clad metal
Model Number: stainless steel clad plate
Material: cladding metal new materials, excellent stainless steel and customized metals
, such as
Stainless steel designations: austenitic stainless steel, ferrite steel, austenitic stainless steel +ferrite steel, ferrite steel+ martensite steel, martensite steel
Process Technical: Explosion Welding
Application: Petroleum refining, chemical and petrochemical industries, Salt manufacturing, soda manufacturing, paper-making, and other chemical industries, Electric power industry, Storage and transportation industry, Large diameter industrial welded pipes, Sea water desalination, Smelt industry (magnesium refining furnace)
Shape: plate,square,retangle,rod or others customized
Quality Control: Upon ISO, ASTM,ASME,JIS,NB,JB
Size: the cladding metal thickness 0.5-50mm; the base metal thickness: 0.5-500mm; dimension of length and width: according to customer's requirements and transportation condition
Advantage: Low cost ,High yield strength ,Good corrosion resistance ,Luxurious and nice appearance,Advanced cladding technology ,Stable and strong composite ,Good processability ,High elongation ,Stainless steel-steel has strong strength, durable
Bonding ability: Shearing/Tensile strength according to ASTM standard
Product information
stainless steel & other metals combined by explosive welding
In the process of modernization, people always make tanks and structures by superior or precious materials to improve their lifetime in many industries. If we can weld a special metal layer to the common metal substituting for precious metals, the problem will be solved. This special clad metal can meet the characteristics requirements as well as avoid waste of precious metals.
That's why clad metals come out. Stainless steel-steel plate is a bimetal high efficiency and energy saving material. Its base plate is steel, welding 0.1-20mm of stainless steel plate on one side or two sides of steel plate. Combining the good characteristics of corrosion resistance, wear resistance, diamagnetism, luxurious, decorative of stainless steel, with weldable, formability, tensile, and heat conductivity of steel, stainless steel-steel clad plate becomes a multifunctional material. Meanwhile, since this metal can save nickel/chrome alloy, reduce cost, and much cheaper, it has been widely used in petroleum, chemical industry, salt refining plant, alkali plant, and other kinds of industries substituting for whole stainless steel, even B30 copper, and Monel alloy. It will benefit the society.
Specifications
1.metallurgical combination without interlayer
2.Excellent performance
3.Thickness ratio: upon request
4.Entire interface combination
5.100% UT inspection
Explosion welding Introduction
Metal dynamic clad technology (explosion welding or explosion cladding technology) uses high energy from explosive detonation to produce a metallurgical weld between metal plates. It can produce high voltage pulse energy, pushing cladder collide with backer at a specific velocity and impact angle. That process produces much bigger stress than the yield strength of metal material. All these happen at instantaneous moment and simultaneously infinitesimal adjacent area of collision point of limited loading stress of materials, realizing wavelike metallurgical weld of two materials.
Feature of Clad Plate:
Make full use of chemical properties of different metals
Bring full play of physical properties of composite metals
Fully strengthen mechanical properties of composite metals
Realize metallurgical connection between dissimilar metals
Save rare metals and cost effectively
Available Specification
stainless-steel clad plate
stainless steel-steel-stainless steel clad plate
Stainless Steel-Aluminum Clad Plate
Stainless Steel-Aluminum-Stainless Steel Clad Plate
Stainless Steel-copper Clad Plate
Stainless Steel-copper-Stainless Steel Clad Plate
Stainless Steel-high manganese Clad Plate
Stainless steel copper clad electrode material
Stainless steel steel clad tube
Advantages of Explosion Welding Clad Metal Materials
-
Save rare metal and reduce plant cost
-Reasonably combine and match the property of the base metal and compound metal
-Flexibly determine the thickness ratio of two or more kinds of metals as per demand
-Reduce the structural design thickness or promote allowable stress of structure
Company information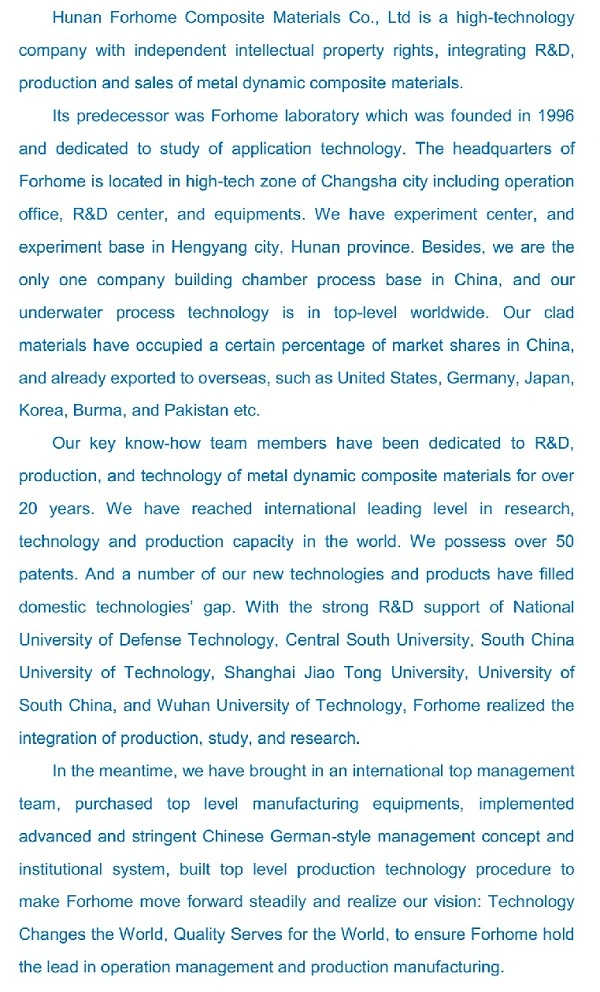 Packaging & Delivery& EXPORT
Packaging Details: Moisture-proof materials packing on pallets, suitable for shipments
Delivery Detail: As per customer Quantity
Export: We have direct export right.

Certification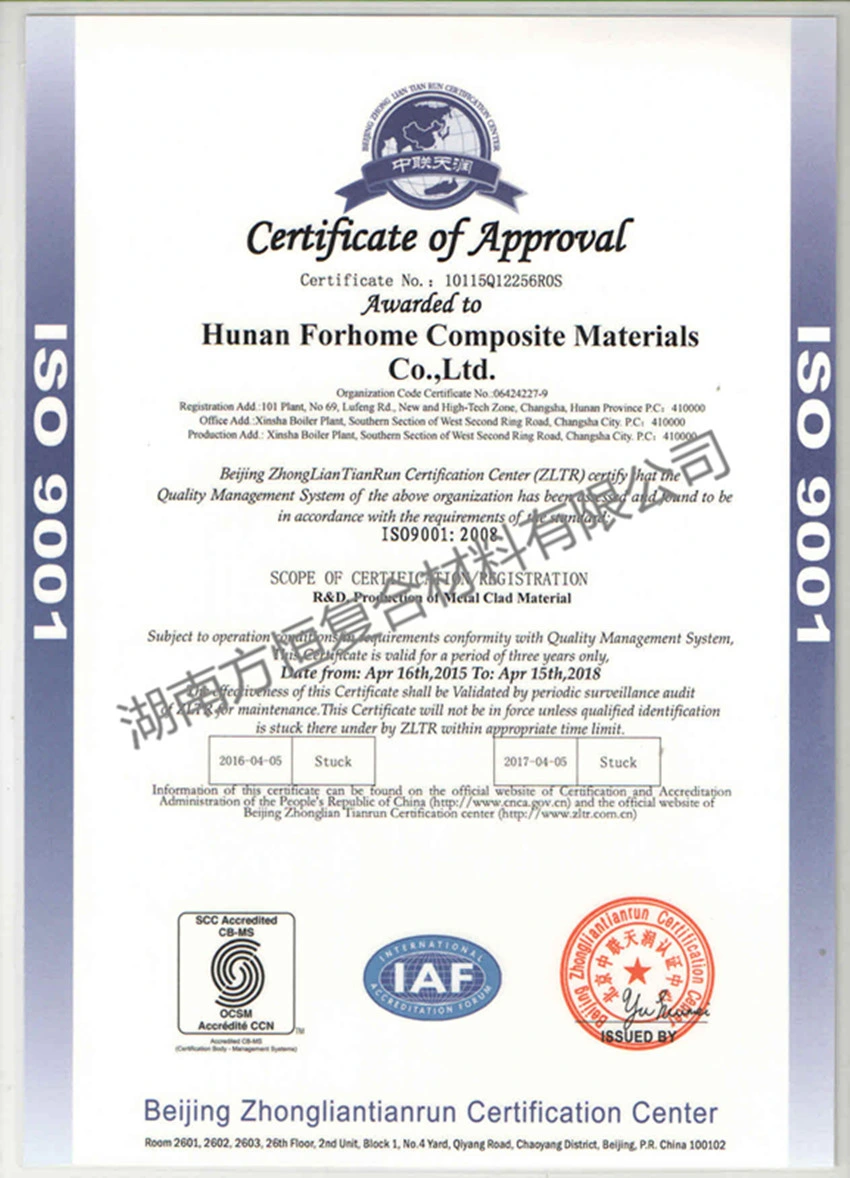 Warm note
No.1
We are professional manufacturer in clad metal. Explosion welding cladding Technical is our core technology. We can offer the high quality and competitive price as customized product.
No.2
We have own plant,laboratory,engineer,andprofessional R&D department..
No.3
As in the period of worldwide marketing expanding,
we have no Minimum order quantity requirement.
No.4
We can provide sample before business starting.
No.5
Usually the lead time is 30-90 days after order be confirmed.
But for the exact date, please check with our sales team